You can only learn so much on the Internet. As old as it makes me sound to say this, you need to read some books—bound, physical, used-to-be-a-tree books—to get good at watch adjusting.
These books are this blog's "textbooks": we'll refer to them constantly, and I encourage you to get copies.
Books for Adjusting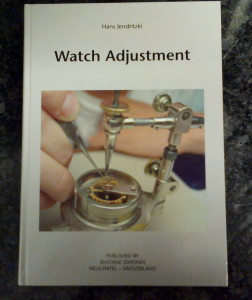 Here it is, our tome, our inspiration, our guide to the straight path in this maladjusted world. By far, Hans Jendritzki's Watch Adjustment (2nd ed.) is the single best book you can own.
It is expensive, to be sure. But if you're a member of the National Association of Watch and Clock Collectors—and seriously, you should be if you're reading this blog—you can borrow books for free via mail (with a small fee for heavy or rare books) from their world-class horological library. A year's membership easily offsets the cost of this book.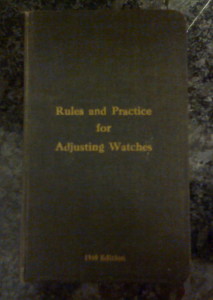 You should check out eBay or Bookfinder for Walter Kleinlein's Rules and Practice for Adjusting Watches (1940 edition). Used copies are inexpensive and charming, with their pocket size and gilt edges.
Kleinlein was writing during the heyday of mechanical watches but before the advent of timing machines. His advice is targeted at beginning adjusters and covers most of what you'll need to know to work on vintage watches.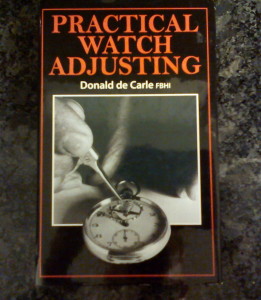 Donald de Carle wrote many great books, and Practical Watch Adjusting is among them. It spends relatively more time on hairspring work and less on positional timing, but it is worth owning and reading.
General Watchmaking Books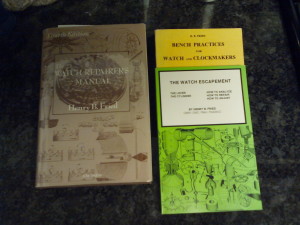 Henry Fried's books are excellent all-purpose watchmaking books. We'll refer to his books The Watch Repairer's Manual (4th ed.), Bench Practices for Watch and Clockmakers, and The Watch Escapement for many of the procedures involved in positional timing, such as cleaning, oiling, polishing pivots, setting banking pins, and the like.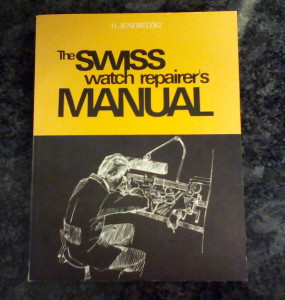 And Hans Jendritzki's best-known book, The Swiss Watch Repairer's Manual, is another excellent all-purpose watchmaking book that we'll refer to throughout this blog.