I recently had a birthday and thought I'd treat myself, so naturally a dirty and broken watch came to mind as the perfect present—something nice but in need of work. This sounds like a job for the coin shops and pawn shops.
You'll rarely find a crusty or broken watch in a jewelry store. Those guys know too much about jewelry repair and polishing, and they either have a watchmaker on staff or a go-to local guy who will service it. A  jeweler would rather put a bit of money into a nice watch and then sell it for much more.
Coin shops and pawn shops, however, get a lot of ugly watches. Coin shops commonly get broken watches with precious metal cases, so you'll find a lot of unloved pocket watches with gold-filled and coin silver cases. Most pawn shops won't accept a non-working watch, but they often lack the expertise or equipment to judge how well it works. And coin and pawn shops are usually looking for a quick "as is" sale. Some of them might have a local watchmaker do a quick and dirty servicing, but most of them will simply wipe the surface crust from the watch and put it on the sales floor.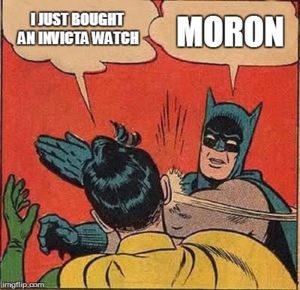 A sweep of the area's pawn shops revealed legions of depressing watches—the many Fossils, Invictas, and Nixons that Americans transport on their wrists from their local shopping mall to their local pawnshop—as well as a few intriguing ones.
A gentlemanly Datejust that I'm now old enough to wear without embarrassing myself caught my eye. After extended haggling—stretched over a week and capped off by leaving my contact info and final cash offer with the manager before walking off (he changed his mind the next morning)—I took this steel fellow home.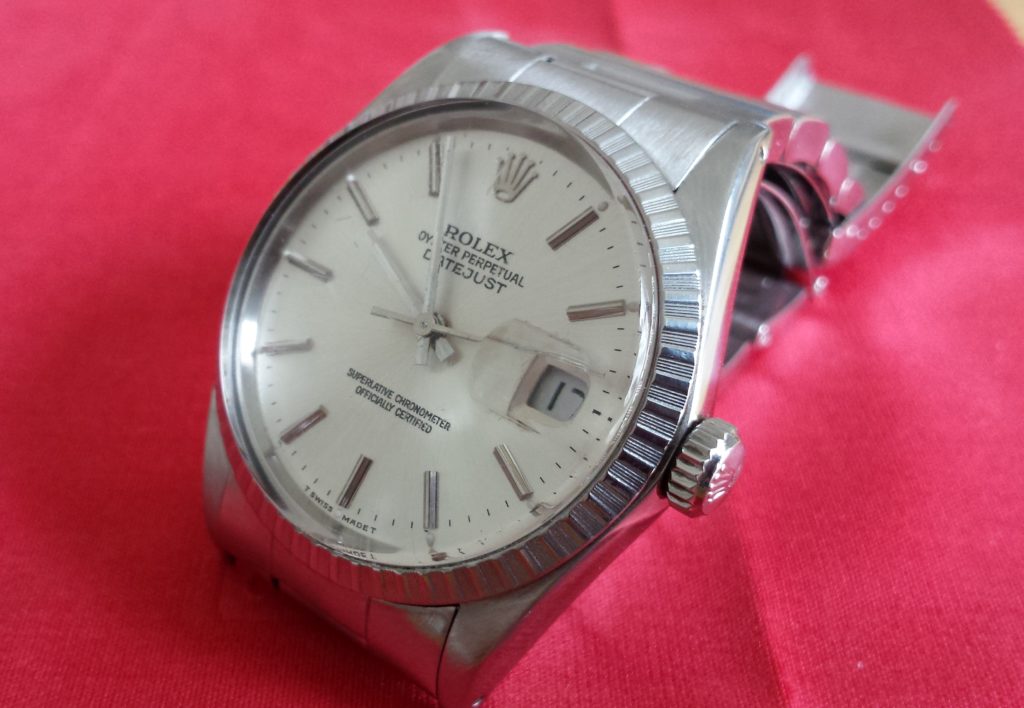 This is a Rolex 16030 Datejust. The 36 mm case is stainless steel with an oyster bracelet, an engine-turned steel bezel, and an acrylic crystal. Inside, it has a 3035 automatic movement. This is an old-school Rolex work horse: it has bi-directional automatic winding, a free-sprung balance wheel, and a quick-set date.
The watch turned all my gears. I had wanted an oyster bracelet (much less "stretch"), an engine-turned bezel (looks cool), and a plastic crystal (cheaper and easier to replace than sapphire crystals). And it looked fairly crusty.
Like most pawn shop finds, the Rolex looked clean at a distance. Someone probably scrubbed it with a toothbrush or a Selvyt cloth. But the case is crusty and needs some attention—just how I like it.
There's gunky "man marmalade"—that gooey paste of sweat, skin, and who knows what else—around the crystal rim.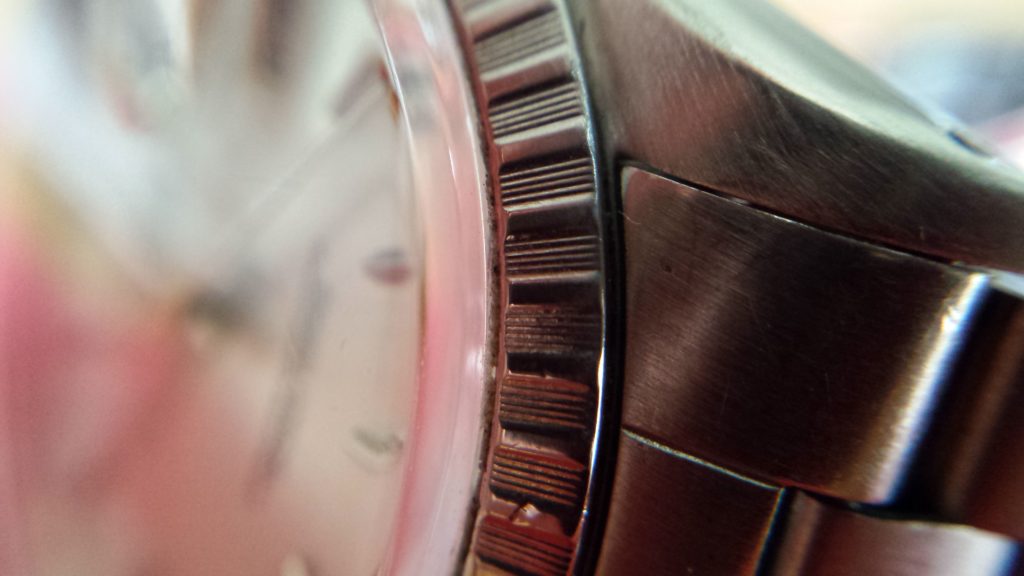 There's more jam beneath the bezel.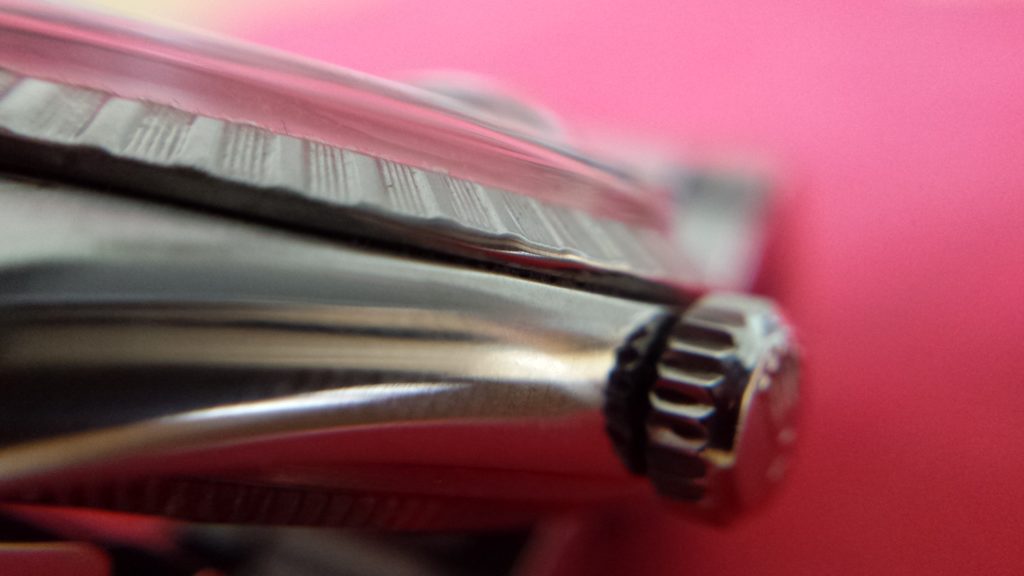 The crystal is scratched and scuffed. It looks like someone quickly buffed it, but it should be replaced.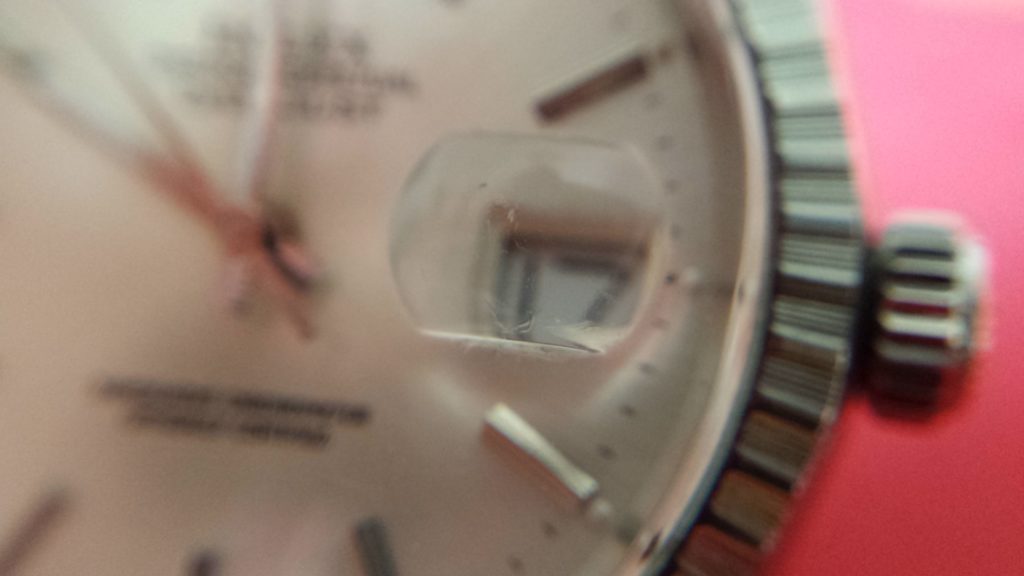 The steel case itself was crudely polished at one point. The sides of an oyster case from this period are polished to a mirror shine, and the lugs and bracelet are polished with a brushed finish.
When brushing the lugs, someone accidentally brushed the sides. This is a hallmark of rushed or inexperienced work.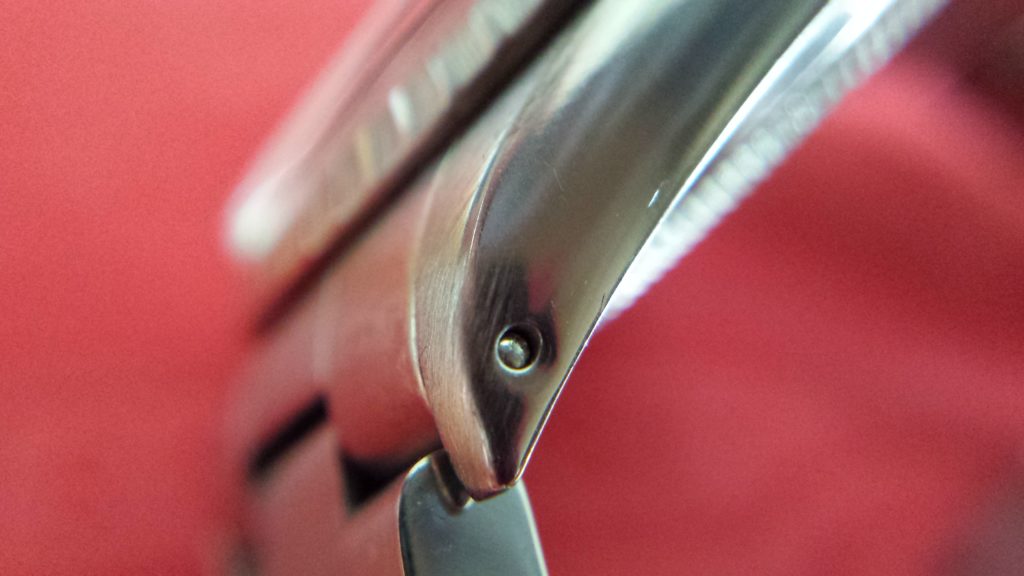 And the lugs themselves have an erratic, inconsistent grain.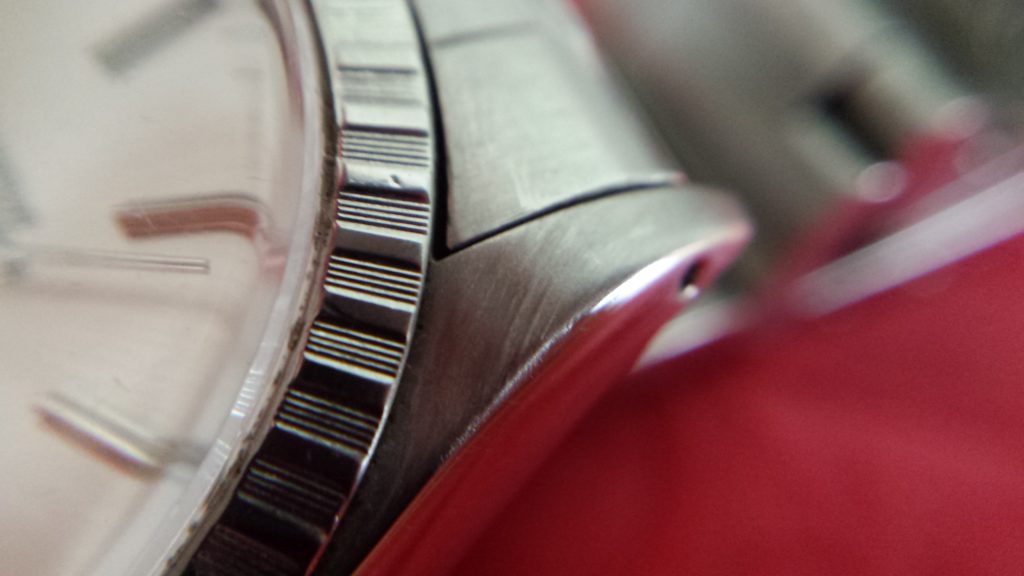 The case back has an interesting engraving. Someone got this watch to celebrate 25 years of employment at IBM. I obscured the person's name to protect his privacy—or perhaps the privacy of his ungrateful heir who dumped Dad's beloved Datejust at a pawn shop.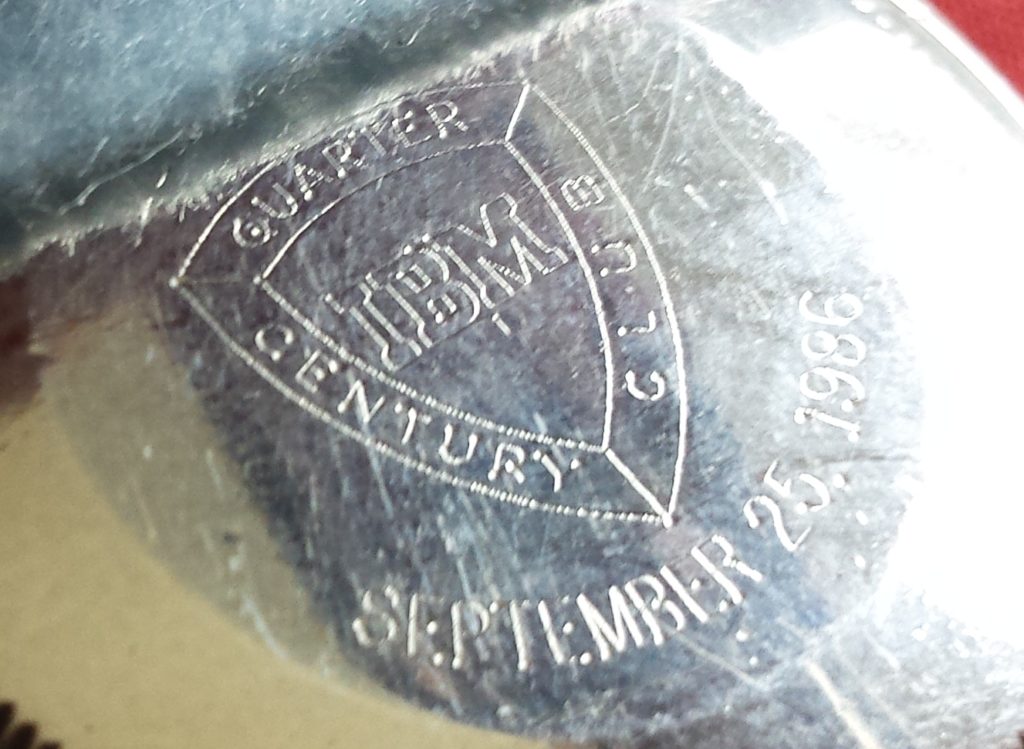 I like inscriptions—they give some history to the watch. This watch comes from a time when IBM rolled large: people stayed for decades and got a sweet watch. These days, employer loyalty is mostly a thing of the past, and IBM is getting its lunch eaten by the new tech giants. Alas, change. The serial number and bracelet date code fit the inscription date.
Measuring the Rates
So, how does this little fellow run? Here's what it looked like after wearing it for a day.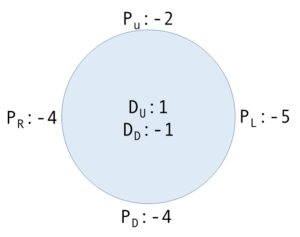 Those rates are disappointingly good. One flaw, albeit minor, is that the horizontal rates are faster that the vertical ones—not by much, but by a bit.
The amplitude is high enough (around 275 degrees horizontal and 255 vertical) and the rates are dead-stable, so I probably can't justify servicing the movement. Oh well.
Indeed, this watch ticks away like, well, a Rolex.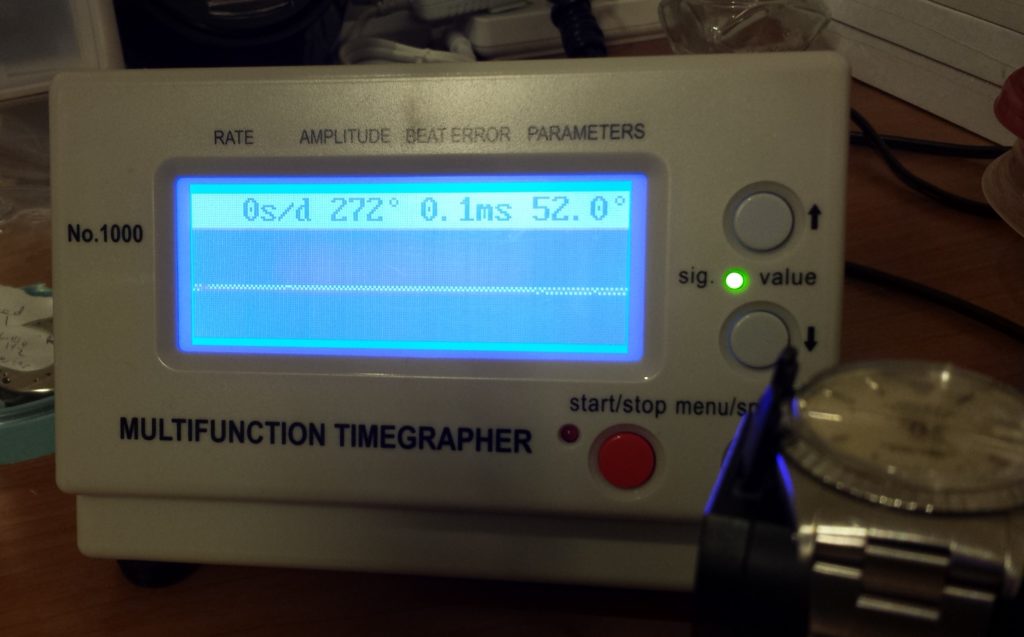 Leaving well enough alone is not one of my strengths, but I'm working on it.
What Next?
Time to clean this case. This involves taking it completely apart, cleaning it, polishing it, and then replacing the crystal. Sounds like a job for future posts…