Just as doctors always get asked to check out your hideous rash, watchmakers always get asked to check out your broken watch. That's why this blog is deviating from its seemingly interminable string of Illinois and Hamilton pocket watches to focus on something offbeat: a new Chinese-made automatic movement, made by Seagull, inside a Stuhrling Original wristwatch.
One of my sisters asked if I would look at a watch that belongs to one of her friends. She said "you can see gears through the glass in the back," so I knew right away that it was my style. Her friend bought the watch recently but complained that it stopped working.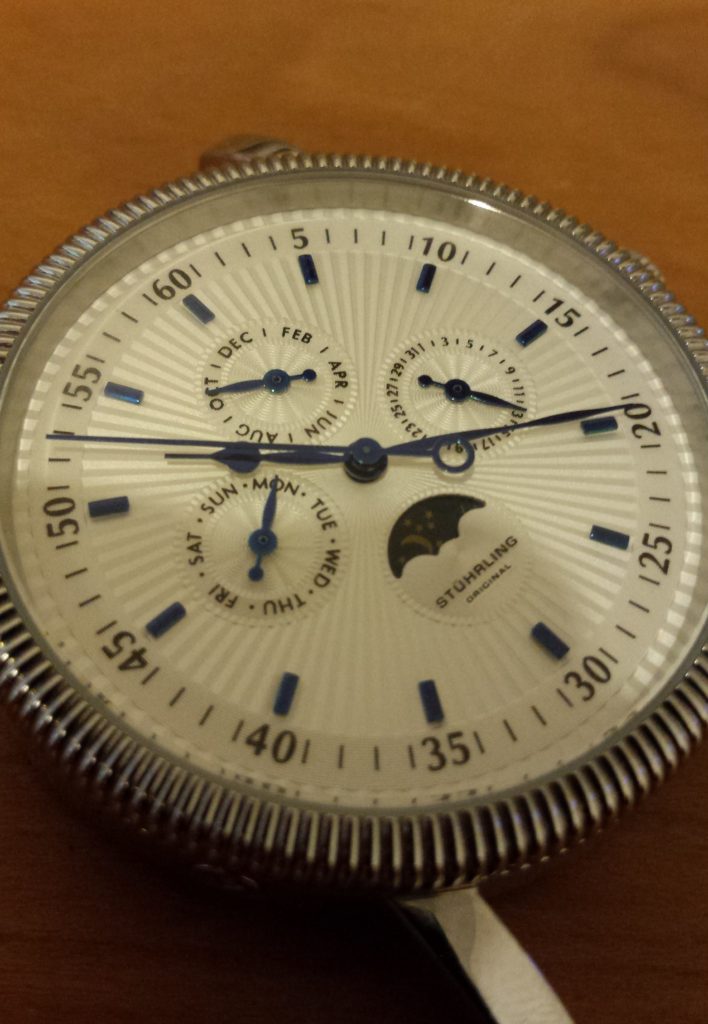 The watch is a Stuhrling Original, which is a Chinese watch. Many Chinese watch companies use Germanic names to sound European, and this is one of them. In addition to the time, it has complications to display the month, the day, and the date, along with a 24-hour day/night wheel showing a sun and moon. The watch hacks in the setting position and presents nicely.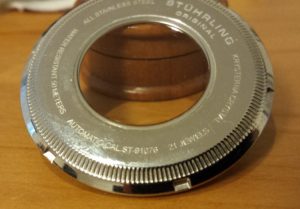 I don't know much about modern Chinese watch movements, beyond that they have an unusually vocal following on the watch forums.  I'm not even sure this is made by Seagull. The case back lists some specs, including a model number of ST-91076, and I think ST is a code for Seagull.
Inspecting the Patient
The watch wasn't running, and I agreed to take a look. Because the watch was nearly new, I suspected that it might be overbanked, something that has happened often to some ETA watches I used to own. When a watch is subject to a shock at just the wrong point in the oscillation cycle, the roller jewel can get stuck on the outside of the pallet fork. This should rarely happen, but some watches seem more prone to it. Removing and replacing the balance fixes it.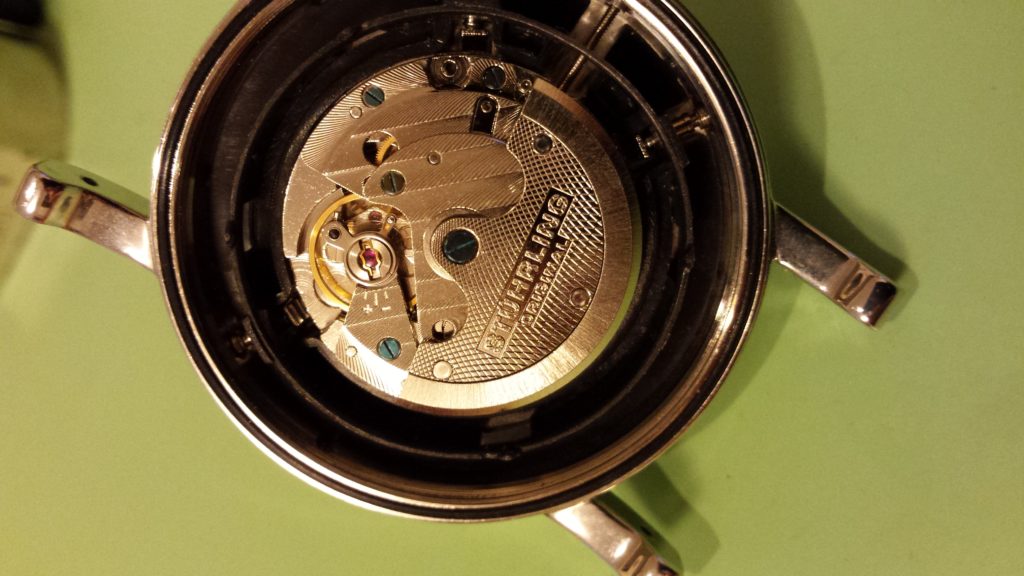 The problem, however, was pretty shocking: a huge piece of packing foam was jammed underneath the balance wheel, preventing it from moving. This picture shows the size of the foam in relation to the wheel: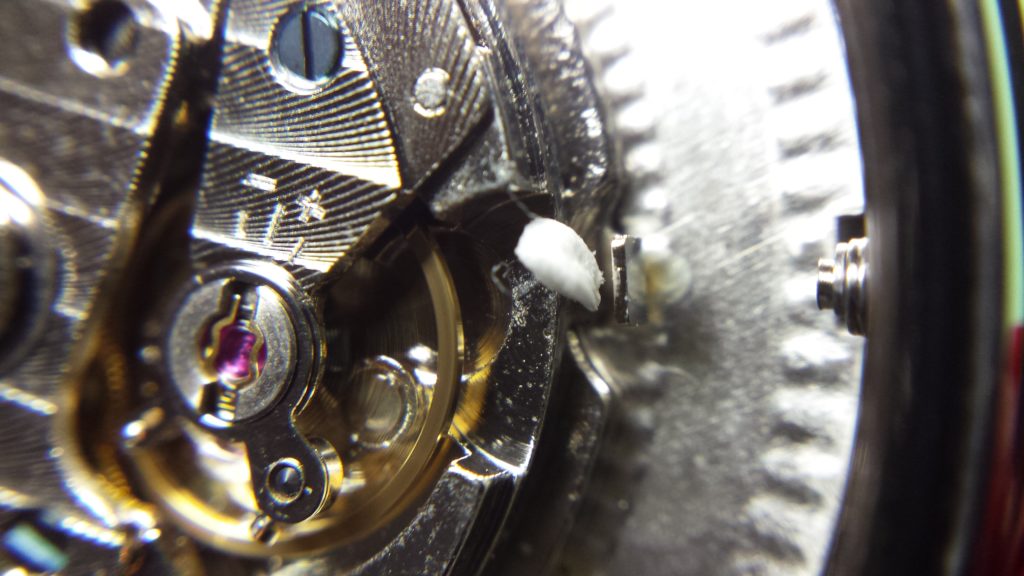 Here's a shot of it in relation to the rotor screw—this sucker is huge. I can't imagine how it escaped the attention of the factory's quality control people.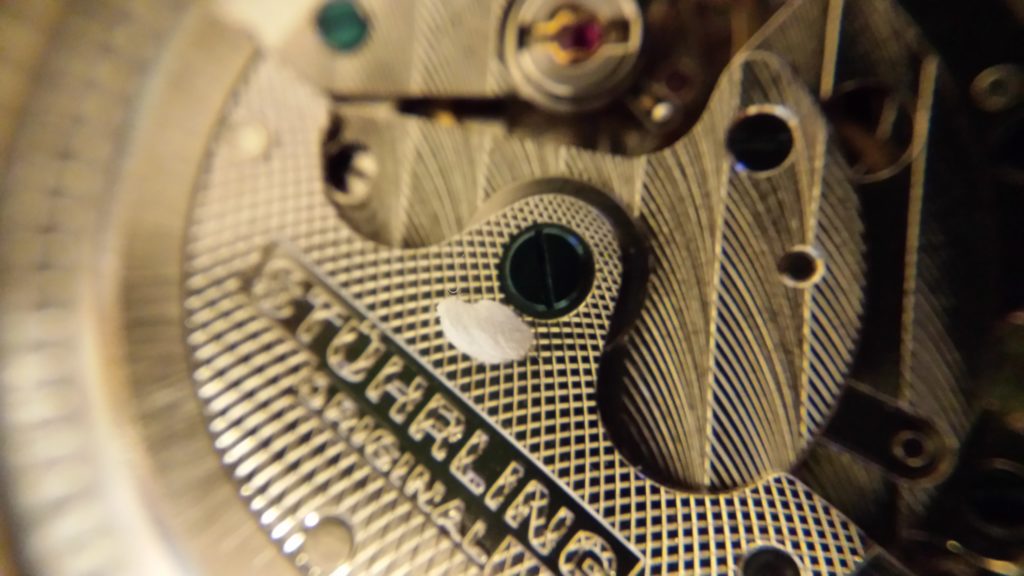 Buyer Beware
I'm often asked by friends for recommendations for a "nice watch," and I tell them any watch someone is willing to care for and maintain is a nice watch. At the same time, people should know what they're buying when they plunk down their dollars for a new watch.
This watch isn't inexpensive. Right now, it is selling for around the price of a good Illinois Bunn Special and for much more than any number of excellent Seiko watches. But the watch shows some serious quality issues, even at that price:
the inside of the case had several smaller pieces of foam that I removed
there were some tiny foam pieces on the dial, including one stuck to the second hand
the second hand sweeps somewhat erratically, occasionally skipping a tick or tock
Inside, a cheap plastic movement spacer keeps the movement still and connects the pushers to the movement.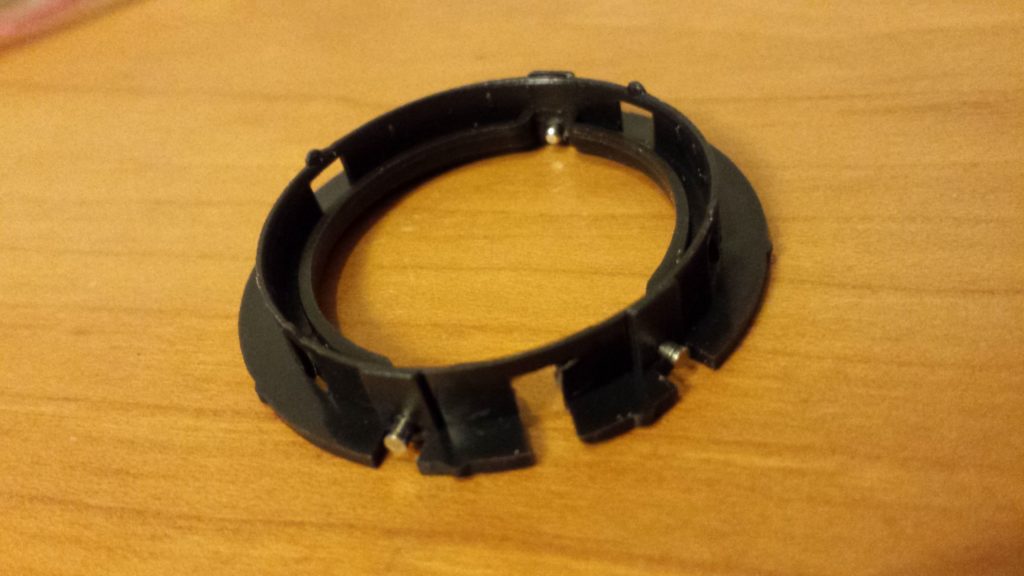 The metal pushers are loosely held in the ring and will eventually grind away at the hole in the plastic.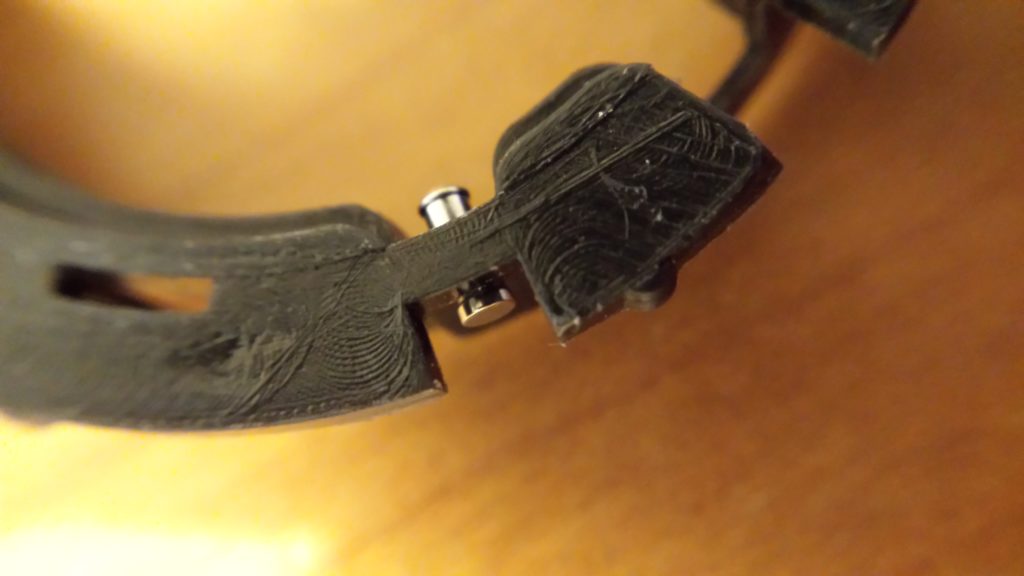 By contrast, a mid-level Oris watch with similar complications uses a solid brass spacer ring with friction-fit, spring loaded pushers.
How Accurate Is It?
Out of curiosity, I fully wound the watch and stuck it on the trusty timing machine. Here is an example of its timing traces: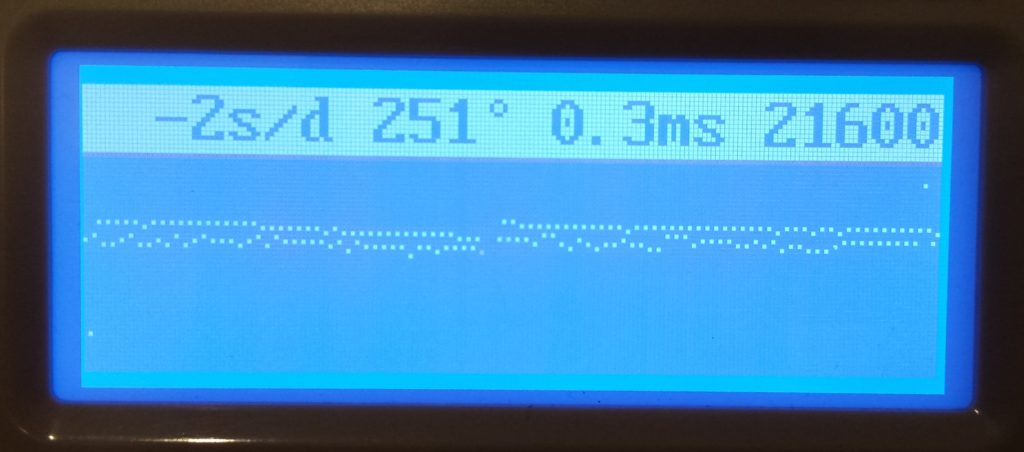 You can see the lower line is less consistent than the upper line, which suggests an issue with the pallet fork's cleanliness or lubrication. The rates were reasonably stable for a vintage watch—within a 60 second period, the rate would vary by 4 to 6 seconds—but not stable enough for a modern watch. Even a lower-spec ETA, for example, ticks like the precision Swiss watch that it is.
What about the rates? Here's what we have in the 6 main positions: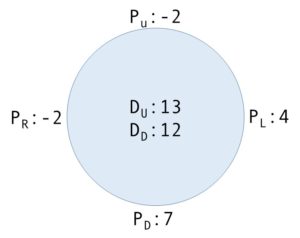 These rates aren't too bad. The dial up and dial down rates are close, and the 4 vertical rates are reasonably close. This isn't the excellent accuracy you'd get from an ETA or Sellita movement, but it will suffice.
One sign of low quality is the lack of a precise way to control the regulator. As you can see in an earlier picture, the regulator pins can't be controlled by moving a long arm (as in older wristwatches, for example) or by turning a screw. Instead, you must gently nudge the regulator itself. This is disappointing in a modern watch.
I would normally take the movement apart and clean it, but I hesitated with this one. This watch's complications are "modular": a self-contained layer sits on top of the base movement. This layer is a sandwich of sorts, with the mechanisms for the calendar work pressed between two plates. For a fancier watch, this module can be removed and serviced, albeit at some hassle. For this watch, I'm not sure if the complication module is even detachable and serviceable. It probably is, but the watch's questionable quality makes me reluctant to try.
Words and Actions: Walking the Talk
The take-away message is that in watches, as in the rest of life, talk is cheap. The marketing language for Stuhrling Original so vastly outstrips the reality that one cannot help but feel that buyers are getting ripped off. Here's how the company's approach to watchmaking is described in its marketing materials:
Through meticulous labor and rigorous testing, the vision of the Stührling Original timepiece is brought to life inside our workshops, where "Quality is never an accident; it is always the result of intelligent effort"
Perhaps more intelligence and effort should have been applied to foam removal. We also learn:
Assembling a Stührling Original mechanical automatic movement comprises no less than 30 checkpoints, spread throughout the assembly process. The movement must meet more than 7 criteria, including a mean variation in rate which is the highest standard in its class in the industry.
Sorry, but I'm not feeling it. A close read shows the "wiggle words" of standard in its class—in which "class" is this watch's mediocre accuracy okay?
By contrast, consider ETA movements. They're so ubiquitous that many watch enthusiasts bemoan their use by so many companies, from Oris to Hamilton to Rado to Mido to Tissot to Tag Heuer…. But ETA movements have earned their reputation for durability and precision over the decades: unlike this timepiece, those ETA movements walk the tock.